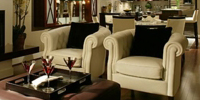 Reed McCullough Reupholstery

Dedicated to providing fine quality upholstery, fabrics, and furniture repair to the Maryland, Virginia, and D.C. metro area. Family owned and operated, the Reed McCullough Reupholstery staff will provide you with over 60 years of combined experience, ensuring that your furniture comes out of the shop looking its best! Your dining room chairs, living room sofa, antiques, loveseat, or custom furniture will not only be fresh, but stronger as well. Fabric discounts of 10-30% are given to EVERYONE!* If you live in the Maryland, Virginia, or D.C. metro area, let Reed McCullough Reupholstery
show you all the possibilities!
We have been given a very high rating in
Checkbook Magazine
and received a checkmark for quality!
Accepting credit cards via Paypal's electronic invoicing! We send you the invoice, you enter your information on a secure, encrypted page, then click "submit." DONE! It's that easy.
(West Virginia, Pennsylvania and Delaware work requests will be considered if large enough and time permits.)
*Depending on fabric cost and yardage.
Site Map
|
Contact
|
Quotes